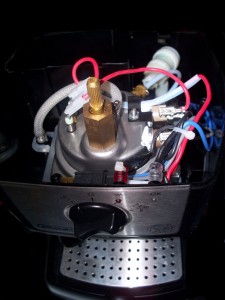 This is a build log of my PID modification to my DeLonghi EC155 espresso machine. Currently, the machine uses an Arduino to drive a solid-state relay controlling the heating coil. The Arduino displays mode and temperature on a serial lcd, and also dumps status information over the serial port.
Update 1: I've ordered parts for a permanent install on protoboard, after I finish the install, I'll update this post with build instructions and details. I will also provide a link to a mouser project where you can order most of the parts in one place.
Update 3: Everything is assembled and functional, and I made an aluminum case thing for the LCD and rotary encoder. Photos to come soon. (8/25/10)
Update 4: ZonCoffee .2 is released! See the release page to download the sketch and to see additional hardware information. (1/4/11)
This post is one of a series of posts regarding mods I have done to my EC155
Required Parts:
Thermocouple ($2, ebay)
Arduino-bootloaded AVR  of some sort ($30, sparkfun)
Solid-State Relay 25A+ ($7, ebay)
Switch (any type will do)
Optional Parts:
Serial LCD ($25, sparkfun)
OSRAM SLR/SLG/SLO 2206 LED Display (driver coming to ZonCoffee soon, will require shift register)
Screw Shield ($10, sparkfun)
Rotary Encoder
My build is currently on a Arduino board with a screw shield, but I'm planning on making a PCB soon. I'll update this page with links where you can purchase the PCB (probably through batchPCB) in the near future.
Software:
Modified BBCC code (arduino sketch)
Modified MAX6675 library
BBCC plotter (processing sketch) [link]
Construction:
Installing the SSR and Thermocouple (coming soon)
Connecting the electronics (coming soon)
Editing and uploading the software (coming soon)
Calibrating the thermocouple (coming soon)