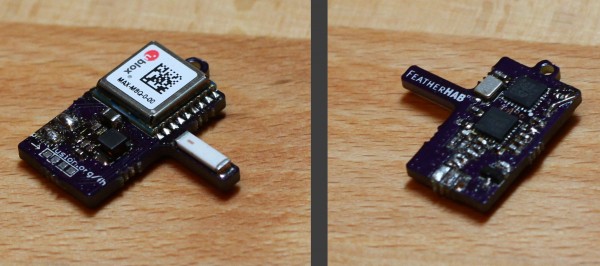 FeatherHAB is a lightweight, small, and inexpensive balloon tracker. It tracks the location of a balloon with GPS and broadcasts the balloon's position to the APRS network on 144.390MHz. The tracker is built around a Ublox MAX8 GPS module and a custom RF transmitter designed with the Silicon Labs Si446x transceiver IC. Power is supplied by a single-cell Lithium battery, which runs through a tiny buck-boost converter to power the system. The total weight comes in at about 2 grams without a battery.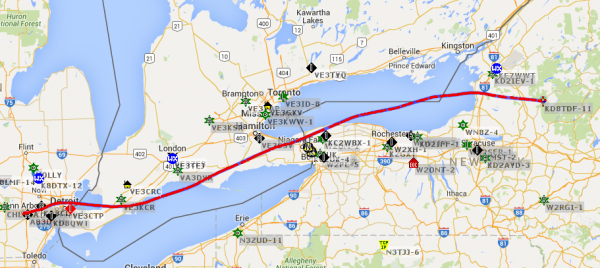 The tracker's maiden flight was on August 8th. I launched it from a location near my home in Ann Arbor, MI and the tracker operated until it reached up-state New York the next morning. For this flight, I suspended the tracker under a jumbo-size party balloon that I partially inflated so it would float for a long distance.
This flight was primarily intended to test my RF transmitter, so flight duration wasn't a huge concern. During this flight, my tracker was powered by a single CR2 cell, which gave about 12 hours of life. I plan on working on power management to extend the life on a single cell as well as building an external solar cell interface board for long-distance flights.
I plan on respinning the FeatherHAB PCB in the coming weeks to fix some minor issues, and I'll officially release source code and hardware at that point. Until then, shoot me an email if you would like any more details about the design.