tinyRGB is a minimalist blinkM-compatible high-current i2c RGB LED controller consisting of only 10 basic components. The board is small and inexpensive, can be fabricated for as little as $1/board, and can easily be assembled by hand with a total component cost of around $3.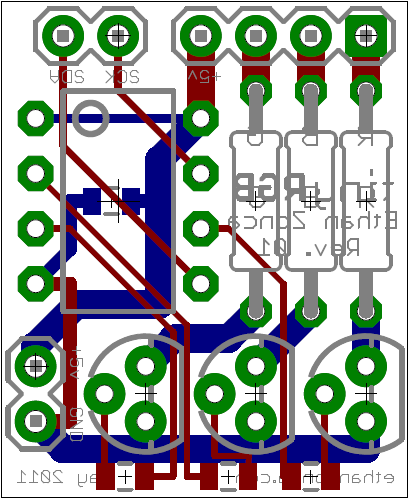 tinyRGB runs the cyz_rgb firmware, providing a simple interface that is completely compatible with blinkM commands.
This board is designed to run on 5v, which is also exposed on the LED output header. However, this board can easily be used to drive LEDs at higher voltages by providing a higher voltage to the common cathode of the LED.
Parts:
PCB [$1]
Pin Headers (if desired)
3x 2N6427 1.2A / 40V NPN Transistor [$.04, mouser]
ATTINY85 PDIP [$1.82, mouser]
.1uF 0805 decoupling capacitor (optional) [$.06, mouser]
3x 0805 Surface-mount 1k resistors [$.04, mouser] (yes, you really can solder them with a fat wedge tip!)
3x current-limiting resistors matched to your LEDs
Total cost: ~$3, plus the cost of your LED and current-limiting resistors.
For firmware installation and setup instructions see the "build" section of Multi-Node Lighting.
Board and schematic downloads are included below. Note that the board is a bit rough around the edges (figuratively), and could use some improvement. Drop comments below if you have any suggestions.
Downloads: