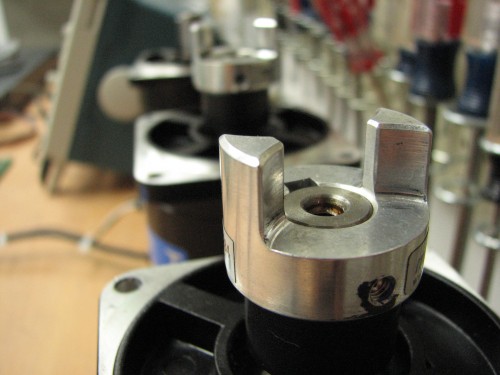 Since my last post, I have completed my junction box and I have prepared 3 motor/speed controller assemblies. I have acquired a second leadscrew to use for my Y-axis, and the electronic portion of the construction (except for limit switches) is complete. Now I can focus on the physical construction of the machine.
Update [6/12/11]: I now have all 3 motors up and running with leadscrews, and parts for both an X and Y linear bearing setup (pillow block on precision ground rod for Y axis, heavy-duty precision angle iron and captive rollers for X-axis). The Z-axis is still up in the air for now. I'll post more information about materials in the near future.
Junction Box
The junction box is made from a stripped Cisco router, which acts as a great enclosure with integrated 5v/12v switching power supply. The integrated supply means I don't need a USB connector to grab power from the controlling computer for powering encoders and other circuitry, which is quite convenient.
The "Serial 1" port is currently not in use, but I might end up using it for turning my power supplies on and off from EMC2, as well as for additional inputs such as a handheld controller, spindle output, and/or DRO.
Servos and Controllers
I have 3 servo assemblies ready to go, although I am unsure if I will use one of these heavy-duty servos for  my z-axis. I have done some additional calibration of PID loops, and I still need to work on software backlash compensation.
I will post additional information and CAD drawings when I get more work done on the physical design. I have some rough CAD sketches, but they are dimensionless at the moment.