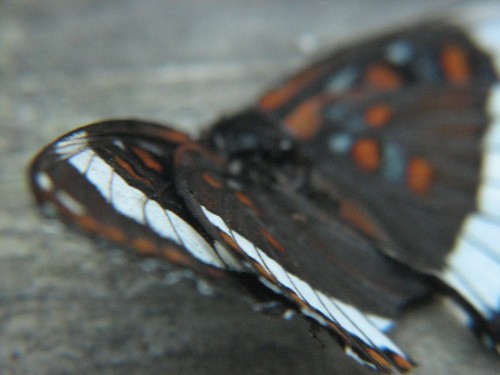 With a couple bucks worth of cheap macro filters, you can get great macro video and photos with the Canon S3 IS (works with the S1 or S5 IS as well). All you need is a lens adapter that fits all of the canon S* IS models and a set of dirt-cheap filters.
I recommend this filter set from "Digital Concepts". Despite the cheapness of the filters, the optical quality is quite decent. I haven't noticed much in the way of blurry edges on any photos I've taken, although many reviewers have noted edge blur and a bit of chromatic aberration on some macro filter sets. If you're looking for a much better quality lens, check out this Raynox.
Taking macro video requires that you not zoom in very far while taking video. The less magnification you use, the more you can zoom.
You can take very close shots using the camera's super-macro mode and the macro filter (the 10x filter works quite nicely). You can also use the standard macro mode, and actually zoom in and still get great macro shots, even with the 10x macro filter. This has given me great results, it also gives an incredibly shallow depth of field. The shallow depth of field is a bit intense at F8, but it can produce some really interesting effects.
Sample Images/Videos:
All of these photos/videos were shot on my S3 IS with the 10x macro filter