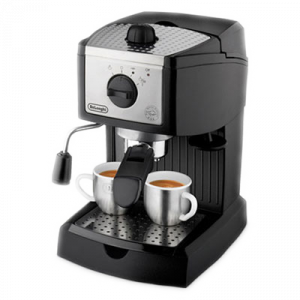 A few people have asked some questions about the EC155 tamper size, replacement frothing wands, etc. I'll keep updating this page with answers to common questions.
Tamper Size
The EC155 uses a 52mm tamper (about 2 inches), and some guys over at coffeegeek have had success with the RSVP Terry's Tamper, which weighs in at a mere $7. Note that this tamper is 50mm rather than 52mm, so it won't fit the basket perfectly. If you're looking for something a bit nicer, check out Coffee Compliments' aluminum tamper ($17). They also offer all of their other tampers in the 52mm size, although they are all upwards of $17.
Frothing Wand
I've been looking around for a suitable replacement tip and/or wand for the EC155, and I've stumbled on a decent solution (thanks to people in this thread). Head over to your local hardware store or Home Depot and purchase a M6 x 1.0 acorn nut (stainless steel). Drill a 1/16″ hole in the tip, I drilled from the inside of the nut using a drill press and some 3-in-one. After drilling the hole, get a larger bit and drill from the other side  to remove burrs. Be sure to wash thoroughly before use! The tip seems to work quite well, although I think a smaller hole could improve performance.
Feel free to leave a comment if you've found a tip or wand that fits. For more information, check out this thread on coffeegeek.
Frothing Pitcher
I've found that a 12oz pitcher seems to work best size-wise with the EC155. The 12oz pitcher is also short enough to allow milk frothing with an acorn nut tip, without a steam wand extension. This pitcher (~$14)  is similar to the one I use. There are also cheaper options, but it's nice to have a sturdy pitcher with a spout.
You can also get a cheap ($10) or more expensive ($14) frothing thermometer, or you can just use a cheap meat thermometer (which works well, although it won't clip on your pitcher nicely).
Baskets
I've been unable to find much information about usable baskets for the EC155, but some people have had luck with some of the baskets listed below.
Portafilter/Basket Dimensions
I made the following measurements with digital calipers, so they should be fairly accurate:
Portafilter inner diameter: 54.6mm at top, narrows to 51.2mm at bottom
Stock double basket

Outer diameter: 54.0mm at widest point, narrowing to 49.0mm
Inner diameter: 52.8mm
Shot Glasses/Carafes
Since the EC155 has very little clearance under the portafilter, you can't pull shots into a mug (unless you remove the drip tray, which is quite awkward). These double-walled thermo-glasses work very well, but any vessel shorter than the 2″ will work just fine.